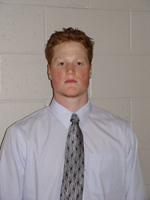 Saginaw captain Thomas Harrison inked an ECHL deal with the Reading Royals after winning two awards at Saginaw's awards banquet.
The
Saginaw Spirit
hosted their 2004-05 Awards Ceremony at the Dow Event Center last Tuesday.
The 2004-05 award winners:
Leading Scorer
Marek Kvapil
Wren Blair Leadership Award
Jeff Weber
Community Service Award
Thomas Harrison
Nouvel Spirit Achievement Award
Jamie Klie
Davenport Spirit Academic Award
Daniel Borges
Heart and Soul Award
Thomas Harrison
Rookie of the Year
Marek Kvapil
Most Improved Player
Jamie Klie
Most Valuable Defenseman
Patrick McNeill
Fan Favorite
Marek Kvapil
Team Most Valuable Player
Marek Kvapil, Tom Pyatt
On a side note, Harrison inked a deal with the Reading Royals of the ECHL last week.