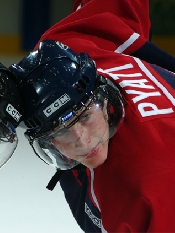 Saginaw's Tom Pyatt hopes to play for Canada's World Junior Team.
Saginaw Spirit forward Tom Pyatt has been invited to the tryout camp for Canada's National Junior Team in early August to prepare for the 2006 IIHF World Junior Championship this Christmas.
Spirit general manager and head coach Bob Mancini said Pyatt has earned the honor.

"This is a great example of how hard work, and taking advantage of opportunities, can pay off for a young man," said Mancini. "We're all proud of Tom for being invited to this camp as an 18-year-old."

Pyatt earned silver with Team Canada at the IIHF U-18 World Championship in April and had two goals and three assists in six games. The United States won the gold medal.
Spirit teammate Michael Birner earned an invite to the Czech Republic tryout camp as well.
"Michael has been a part of the Czech National Team Development Program for a number of years," added Mancini. "His nomination to the Czech Junior National Team is a testament to his hard work and development."

Plymouth Whalers second-year forward John Armstrong was invited to Canada's Under-18 summer camp.